Hydrainer's UK General Manager, Ken Walker alerted Mike James to a contaminated fuel issue with a new client contract after the machine stopped running following less than 15 minutes of operating time.
This is what led to the "light bulb" moment and the FuelActive journey began, Mike designed a solution to supply the cleanest fuel available to the fuel injectors through a floating fuel pick-up unit, thus eliminating contaminated fuel being delivered through the system. The prototype design was trialled at the local depot in Cardiff, with more extensive tests taking place at the Head Office in Sheffield.
With the trials proving successful, Hydrainer placed the very first order for FuelActive and remain firm customers today.
Following a Product Development and Upgrade at Hydrainer, the FuelActive pick-up unit technology was incorporated as an integral component into the fuel tank during manufacture and is now a factory-fit solution.
An innovative approach to product development, attention to detail and the very high specification of its equipment, has enabled the company to build an enviable reputation as an efficient problem solver and solution provider.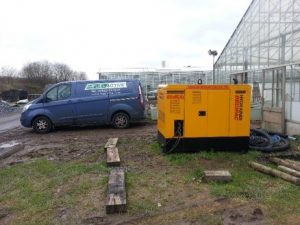 Operating within the Construction, Mining and Civil Engineering sectors, which can suffer the most arduous conditions, where pumping operations are often critical for site productivity and any breakdowns or failures can have a catastrophic effect on site performance.
HYDRAINER Hire and Sales have been operating in the highly competitive UK market for over 25 years and during that time have grown to become the largest specialist submersible pump hire company in the UK. This growth is supported by extensive technical knowledge and a deep experience base which Hydrainer can effectively apply to any pumping problem.
For more on how FuelActive can double the life of your fuel filters, improve fuel economy, increase engine power and reduce emissions visit our product benefits page.
For more information on FuelActive, or to try FuelActive for yourself contact one of the team and we'd be more than happy to set up a demonstration for you, in fact, we're so confident you'll see the benefits we'll give you your first unit absolutely free.