ASR Singapore is a long-established global market leader that has a truly global presence and self-supplied from modern manufacturing facilities in Europe, specialising in the rental of oil free air compressors.
ASR safeguard the designs of key equipment by only offering them for rent.  The PTS916 and PTS1600 are fitted with the Cummins QSX15 503kW (675hp) engine and are synonymous with being the highest quality and highest performance air compressors currently available on the market.  They offer maximum fuel efficiency and an unrivalled performance, giving significantly lower running costs.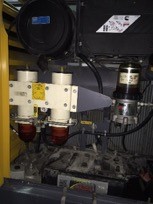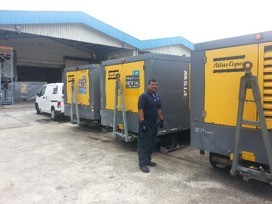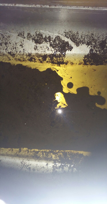 Frequently subjected to severe external environments, the PTS916 and 1600 air compressors courtesy of the robust Cummins QSX engine, enjoys an impressive service interval.  However, reliability is compromised in extreme environments where contamination in the form of dust and condensation consistent with the hot, humid weather of Singapore, routinely makes its way into the fuel tank, causing disastrous effects further downstream within the fuel line.  Diesel fuel contamination issues increase the number of call outs required while reducing machine uptime.
After suffering significant, repeated damage to the Cummins QSX engine components, including the fuel pump, destruction to expensive fuel injectors and recurrent blocked fuel filters, along with engine breakdowns, ASR Singapore sought advice from the FuelActive team.
FuelActive were asked whether fitting the pick-up unit would protect their rental equipment and relieve fuel contamination concerns while operating in the South East Asian environment?
A trial was agreed upon where FuelActive would fit the pick-up unit to 5 ASR air compressors.  Following the trial-period the results were scrutinised by the ASR Singapore team.  The service schedule was able to be expanded by 4X the normal timeframe, and with zero breakdowns and the issues associated with fuel pumps, injectors or blocked fuel filters eliminated.
The ASR team were so impressed with the trial outcomes that they now fit FuelActive in their rental fleet in South East Asia via their Singapore depot.