This week, FuelActive had the pleasure of demonstrating our fuel contamination solution at the Molson Equipment 3-day open house.
Armed with the demonstration tank, major plant hirers, civil engineering companies and key contractors were treated to live demonstrations of FuelActive as well as expert insight into how FuelActive can protect engines, fuel injectors from the devastating effects of fuel contamination.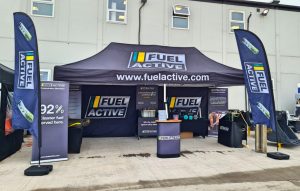 The open house, which featured live demonstrations of equipment, as well as showcasing the full product lineup of Molson's portfolio attracted hundreds of attendees across the 3 days.
Molson Equipment, a division of Molson Group are appointed distributors of major construction and industrial brands such as Hyundai Construction Equipment, Kobelco, Terex and Sennebogen.
For further insights into how FuelActive can protect your engine from contaminated diesel, visit our product insight page.