The FuelActive tradeshow season got off to a hot and sunny start at Hillhead, the UK's biggest quarry expo.
Held in a limestone quarry outside of Buxton, Derbyshire, the Quarry, Construction and Recycling show welcomed back record crowds of over 20,000 after a 4-year COVID hiatus.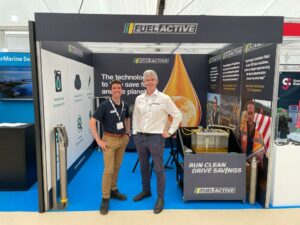 Positioned perfectly en route to the outside exhibits, the FuelActive demo tank caught the eye of showgoers with many stopping to watch the clear impact of the FuelActive pick-up pipe vs the conventional pick-up pipe. It proved its worth once again, securing many leads and capturing the imagination of many a fleet manager who stopped to quiz the sales team.
Demonstrating the new brand messaging, "Save Fuel, Save the Planet" along with the 5% fuel and CO₂ saving byline resonated with the audience who are not only challenged by the recent rise in fuel costs but also by the aggressive challenge to reduce onsite emissions.